Email Bombs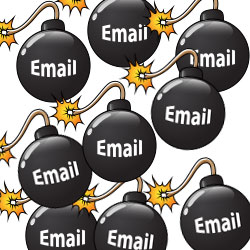 Yes – that's one of the new 'things' that evil-doers are using to torment users. The title of this article pretty much tells the whole story, but I added the graphic for eye-appeal! Email bombs are all out assaults on your inbox. The reasons for these attacks varies from the relatively harmless, but very irritating, to the extremely harmful. Think of it this way: when your inbox is hit with 450 spam messages in one day, you're much more likely to overlook or delete an important message. The important message could be any number of things: a bid announcement or acceptance; the need to renew your domain; a competitor's announcement and so forth. Most of the readers of this newsletter would probably be targeted because they own a busy domain that's about to expire. The email bomb hits during the period when you get notices to renew your domain – or you will lose it. The desired effect being: you do not see the renewal email, or delete it, and the email bomber can snap up the domain. The next step is pretty obvious: you're about to buy your $50 domain for $1,000 or so. Or, you can lose the domain – and all the resources you've expended to build the domain's reputation. Sadly, there's not really an effective way to stop these e-bomb attacks. I do suggest that you send an email to all your important contacts and let them know what's going on: your attacker may have the ability to spoof your email address and send bombs to people on your contact list. Also, you can consider setting up a secondary email address for crucial contacts. Changing your passwords is also a very good idea. And finally, consider signing in to where your domain is registered and making sure payment is not due. Since there is no real solution to such bombing attacks – my best suggestion is to simply ride it out – but BE SURE TO READ/CHECK ALL YOUR EMAIL. You'll know quickly if it's trash, or something important. Hassle? Yes! But still better than some of the alternate consequences.
What Version of Windows are You Running?
It's easy to find out. RIGHT click on the Windows icon – click the word RUN – type winver – hit Enter/Return. Read the returned information. Now you know for sure what version you are running.
VLC Keyboard Shortcuts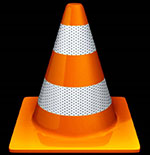 Let me start by saying these are some real time savers! That being said: if you have taken my advice over the years, you've downloaded your FREE copy of the VLC Media Player. If not, it's available by clicking here. It's a fantastic media player that will properly run almost every codec in use. It's much better than the players that come with either your Apple or Windows machine. It is the default player on every system we operate. Now, for the good stuff…
F: Toggle full-screen mode.
Ctrl + Up or Down arrow: Increase or decrease volume.
M: Mute.
T: Displays the time remaining in the media file and the time elapsed.
Shift + Left or Right arrow: Jump 3 seconds back or forward
Alt + Left or Right arrow: Jump 10 seconds back or forward
Ctrl + Left or Right arrow: Jump 1 minute back or forward
Ctrl + Alt + Left or Right arrow: Jump 5 minute back or forward
Ctrl + T: Go to a specific time in the file.
NB The shortcuts in red are my favorites. Enjoy!
Big Brother

I won't spend too much time on this one, but I am compelled to include the following comments in this month's newsletter. If you have smart devices, be careful what you say "around them." Tech journals often report that many of these devices not only listen to all that is said within their specified hearing range, but record it as well. The hearing range of these devices varies, so check what the spec is on your device(s). I've mentioned that we trashed both of our Alexa devices after determining they indeed were listening to our conversations, and using that data to affect our on-line experiences. We could give Alexa instructions from one room away, so it was hearing practically everything we said. We considered this not only intrusive, but a security risk.
Custom File Manager Icons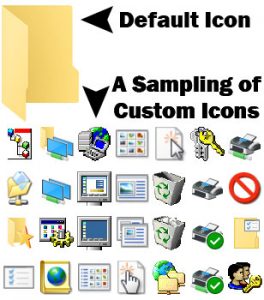 If you have a file folder that you are constantly going to, it can often be difficult to quickly locate it (them). To make it easier to identify high-use file folders, you can very easily customize the icon. The default icon is pictured at the top right. At the bottom right is a very small sampling of the available custom icons you can employ. Here's how you get one attached to your folder(s): RIGHT click on the folder you want to change > Click the tab at the top that say Customize > At the bottom click Change Icon > you can scroll to the right of the icons presented until you find what you want > click your selection > click Apply. You're done. (You may need to reopen File Manager to see the change(s) you've made.